Paper: Columbus-Shenkar, YY, Sachkova, MY, Macrander, J, Fridrich, A, Modepalli, V, Reitzel, AM, Sunagar, K, Moran, Y (2018). Dynamics of venom composition across a complex life cycle. eLife. 35014 DOI: 10.7554/eLife.35014
Looking at the right time  
Over time, organisms have evolved chemical compounds to communicate with each other, defend themselves, or signal for help. Venom, one of these chemical compounds are of interest to some scientists who are studying not how they might do harm, but how they might be applied to save lives.  Chemical compounds found in the ocean have already yielded non-addictive painkillers, a potential treatment for AIDs and anti-cancer drugs, just to name a few. However, research in this field has generally focused on studying chemical compounds found in adult animals. A fascinating finding from a new study involving the starlet sea anemone (Nematostella vectensis) shows that we can't just look in the right place, we also have to look at the right time.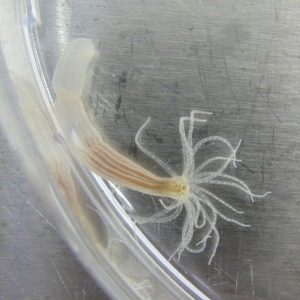 The starlet sea anemone (Figure 1), along with jellyfish and coral, belong to oldest existing group of venomous animals known as Cnidaria.  Most cnidarians have complex life cycles involving significantly different body sizes, body shapes and survival strategies.  For example, the starlet sea anemone starts as a fertilized egg then grows into microscopic larvae that swim, but do not eat (Figure 2). After a few more transitional life stages, they are over a hundred times larger than their larval stage as an adult! The adults remain relatively sessile by burrowing into the mud with their tentacles exposed to capture prey.  Needless to say, these sea anemones' priorities shift from defense to offense. How can producing just one type of venom cut it? A team of scientists from Hebrew University found it doesn't. Rather, starlet sea anemones have a chemical arsenal of venom with different functions that change through its lifetime.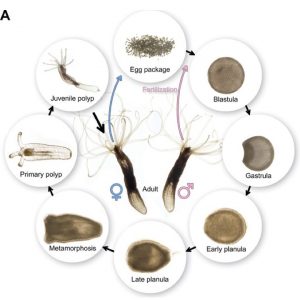 Tracking venom-producing cells
Columbus-Shenkar et al. were able to label distinct compound-producing cells, and then track changes in the amount and distribution of these cells throughout the sea anemone's life cycle.  In combination with behaviour experiments, the scientists exposed different types of starlet anemone compounds to its prey and predators to begin piecing together the different functions of different venoms.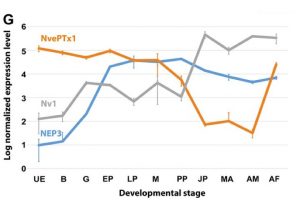 Venom #1 (NvePTx1) 
Cells that produce venom #1 were highest in unfertilized eggs, suggesting that the ability to produce this compound is a survival strategy passed down from mom.  As the anemone further develops, the distribution of these cells begins to shrink dramatically, first disappearing from either end of the anemone (mouth and rear) before appearing again in adult females.  When a form of this venom was exposed to 20 zebrafish larvae, a common lab fish, all of them died within 24 hours. In the control group, all fish behaved normally and remained alive for over 20 hours.
Venom #2 (NEP3) 
Cells producing venom #2 were highest in early developmental stages and continued to be present around the same levels even in the adult life stage.  A form of this venom was exposed to 17 zebrafish larvae which underwent contractions and tail twitching before all dying within 5 hours. All 20 fish larvae survived in the control group.
Venom #3 (Nv1)
Cells producing venom #3 were relatively low in early developmental stages. However, these cells peaked and became the dominant toxin for later life stages.  Compound #3 is localized in the tentacles (see Figure 4), beginning from the juvenile polyp stage, suggesting it could be used for prey capture.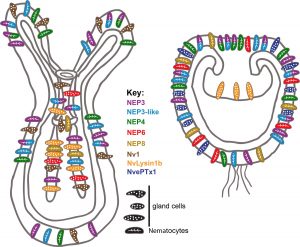 There is still a lot of work to do to further understand the function of these compounds and it will take several more years to determine if these venomous compounds will have beneficial medicinal or pharmaceutical value.  However, this study shows what we might have been overlooking by only focusing on compounds in mature 'adult-stage' animals thus far.  It's time to change that!

I'm a past oceanbites writer, occasional editor and guest poster.  I graduated with a Masters of Coastal & Marine Management from the University of Akureyri in Iceland, and am currently working in marine conservation.  In particular, I'm supporting an Indigenous-led initiative to safeguard the largest inland sea in the world (Hudson Bay & James Bay, Canada). I love weird ocean critters and *sigh…I really do enjoy long walks on the beach.