Outreach is great tool to engage a diverse audience on a specific topic.  The opportunity to participate in outreach is positive and the experience is rewarding.  Outreach can be done in the classroom, in the community, and online.  Online outreach can be done from anywhere, even ships in the middle of the vast ocean.  Already in existence are some really great outreach webtools that educate viewers about marine-science work in the field.  Adopt a Microbe is one of those sites.
Adopt a Microbe is an education and outreach project that engages a creative way to teach the world about microbes through a combination of communication with scientists at sea and hands on activities designed for the classroom.  The website includes an Adoption Center that hosts photographs of different microbes, a description of their appearances, and information such as from where they derive their energy and where they have been found. The Adopt a Microbe project launched in 2010 on IODP Expedition 327 in collaboration with the Consortium for Ocean Leadership. The website is a great resource for anybody curious about the tiny organisms.  A summary of the success of Adopt a Microbe from that cruise is published in the Journal of Marine Education (Orcutt, B. N., Bowman, D., Inderbitzen, K., Haddad, A., Fisher, A. T., & Peart, L. (2011). THE 'ADOPT-AMicrobel PROJECT: WEB-BASED INTERACTIVE MICROBIOLOGY EDUCATION CONNECTED WITH SCIENTIFIC OCEAN DRILLING. Curr.: J. Mar. Educ, 27(3), 40-44.)
The most recent ship-to-shore experience from the Adopt a Microbe project was in November of 2017 from the Research Vessel Atlantis while it was at North Pond , a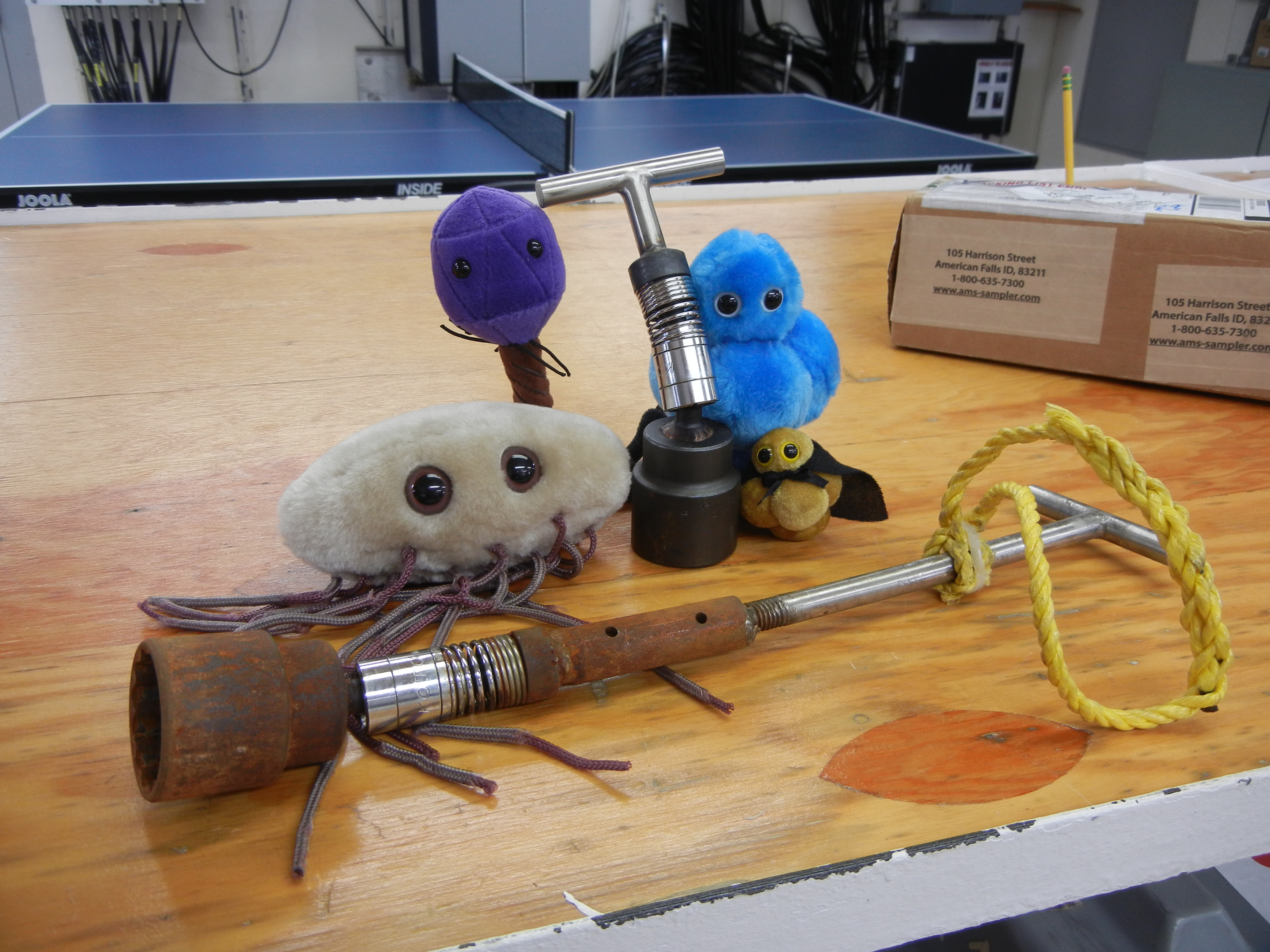 n 8×14 km sediment pond along the Mid-Atlantic Ridge. On that cruise, officially identified as AT39-01, scientists performed experiments to investigate fluid flow in the oceanic crust, collect fluid samples to investigate viruses and microbes circulating in the crustal fluid, and collect samplers and experiments previously deployed at the site.  The Adopt a Microbe project was implemented on that cruise by its Founder and the Project Leader, Dr. Beth Orcutt at Bigelow Laboratory for Ocean Sciences, in collaboration with the Girl Scouts of Maine, as a means to educate young minds on land about the fascinating microbial research done at sea. Orcutt designed activities for the students to complete on land to help them engage with the material, and communicated with the girl scouts throughout the expedition.
In addition to Orcutt, five other scientists (myself included) volunteered to contribute blog posts to the site.  Each contributor offered a unique perspective on the shipboard experience and insight into the relevant research and research methods.  Dr. Rose Jones, a Post Doc working with Orcutt, did a five-part series about her research called 'Diary of a Microbe Hunter'.  Dr. Tess Weathers is a Post Doc from UC Santa Cruz studying heat flow through the sea floor, she went in-depth about her work in the field and kept things entertaining by organizing a Shipboard Haiku competition judged by Facebook and Twitter users. Dr. Kelle Freel, a Post Doc from the University of Hawaii, explained why we collect water samples to study its flow underground. Kristin Yoshimura, a PhD student from the University of Delaware, did a variety of posts that ranged from what it is like to be a marine scientist, what happens to the samples after the cruise, and what's it like to be an ROV Jason Pilot.  And myself, who participated on that cruise as a technician, also covered a range of topics including a detailed post about CORKs (a plug for a drilled hole the allows future sampling) and the science of shrinking cups.
Adopt a Microbe is just one of many great ways to get involved with and stay in-the-know about the latest oceanographic field expeditions.  For other great ways to engage in outreach and means of digital ocean exploration, check out Oceanbites post 'Online Ocean Exploration'.
**The post was edited to correct the history of the site**

Hello, welcome to Oceanbites! My name is Annie, I'm a marine research scientist who has been lucky to have had many roles in my neophyte career, including graduate student, laboratory technician, research associate, and adjunct faculty.  Research topics I've been involved with are paleoceanographic nutrient cycling, lake and marine geochemistry,  biological oceanography, and exploration. My favorite job as a scientist is working in the laboratory and the field because I love interacting with my research!  Some of my favorite field memories are diving 3000-m in ALVIN in 2014, getting to drive Jason while he was on the seafloor in 2017, and learning how to generate high resolution bathymetric maps during a hydrographic field course in 2019!