Reference: Waterhouse, L., Heppell, S.A., Pattengill-Semmens, C.V., McCoy, C., Bush, P., Johnson, B.C. and Semmens, B.X., 2020. Recovery of critically endangered Nassau grouper (Epinephelus striatus) in the Cayman Islands following targeted conservation actions. Proceedings of the National Academy of Sciences.
DOI: https://doi.org/10.1073/pnas.1917132117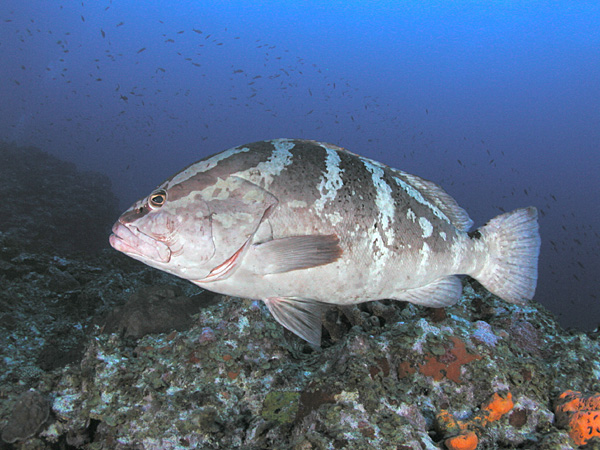 What are FSAs and how are they related to conservation?
Some large bodied fish reproduce in groups known as fish spawning aggregations (FSAs). These spawning groups refer to a reproductive strategy in which males release sperm in close vicinity to female eggs for fertilization. Although these groups are advantageous for the spawning fish, they can also be preyed upon by fishing vessels catching fish in large groups is much easier. Since FSAs can quickly be overfished and depleted, many governments have started putting measures in place to help exploited FSAs recover.
How to sample FSA size
One of the biggest problems with monitoring and regulating FSAs is access to these large aggregations. Many FSAs occur in areas too far from land to monitor or in treacherous conditions that won't allow observation. There are several methods that can be used to monitor these groups including diver-based observations and video footage. Diver based methods are difficult as the conditions have to be good, and using multiple divers can lead to observational bias, or slight differences in the number of fish based on the person counting. Videos of the FSAs must also be taken in situ by divers and suffer from the same problems with of bad diving conditions, but FSAs are easier to count in the lab at a later date. Tags are attached to one side of each fish and used in both methods to indicate organisms that have already been counted, to prevent a fish from being counted more than once. Both diving and videography methods were used by Waterhouse et al. (2020) to investigate an FSA managed by the Cayman Islands.

Why study FSAs in the Cayman Islands?
Nassau Grouper are commercially important large bodied fish that form FSAs in the Caribbean around the Cayman Islands. The grouper fishery in the Cayman Islands used to be very large until 1990, when historical FSAs on the east end of little Cayman all but disappeared, and ongoing monitoring efforts stopped with the collapse of the fishery. In 2001 two fishermen found a new FSA and commercial fisheries again began to overfish the newly discovered FSA from a starting population of ~7000 down to ~3000 fish. After this steep decline, the grouper fishery was categorized as critically endangered, and in 2003 the government put strict regulations in place to prevent the extinction of this fish. Some of these regulations include seasonal closure of the fishery from December to April during spawning, a 16-24 inch size limit per fish, gear restrictions and a total of five fish per vessel during open season. In addition to these protective regulations, the government also instituted marine parks that are no take zones year-round, meaning they can never be fished for grouper. To date, these no take areas, cover approximately 46% of the Cayman Islands shelf. Monitoring by both academic institutions and non-profit companies was also put into place to help determine the impact of these policies. One such collaborative group of researchers, the Grouper Moon Project, aims to provide the government with monitoring data necessary to asses grouper populations in the Cayman Islands. Ongoing monitoring and regulation over the course of 15 years make this fishery a perfect case study for the efficacy of regulation efforts and marine protected areas on FSAs.
The study by Waterhouse et al. (2020) is the first of its kind to directly quantify the impacts of fisheries regulation and no take zones on a large fishery for such a long period of time. The authors discovered a large recovery in the population from 2003 to 2018, and a tripling of groupers within the FSA since 2009 in Little Cayman. Little Cayman is now the largest grouper aggregation in the world and the grouper population has changed conservation status from critically endangered to threatened. However, some of these encouraging findings come with a few caveats.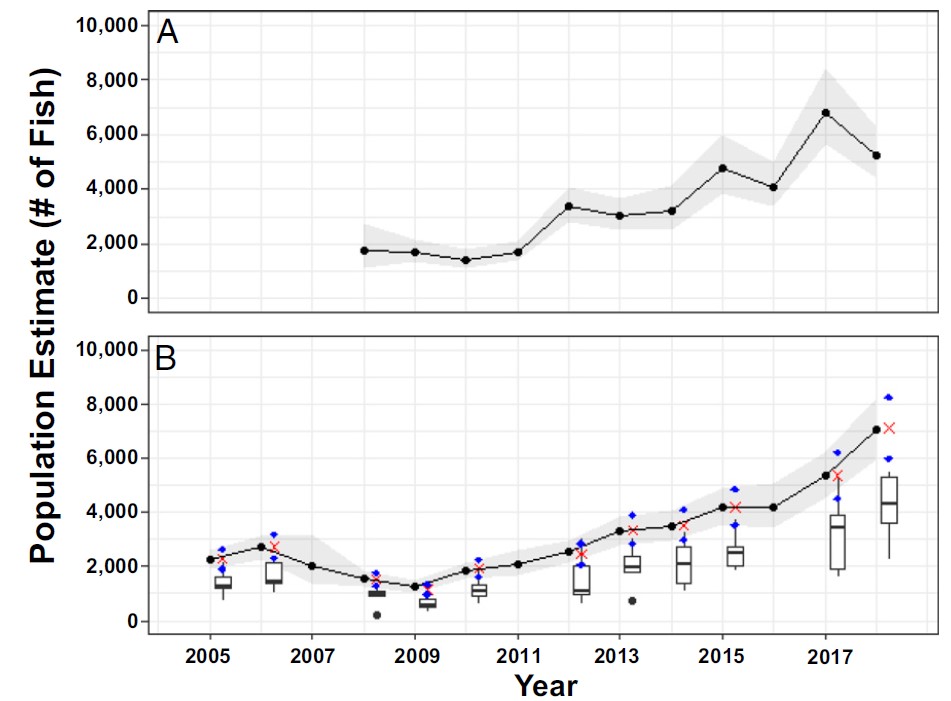 The population recovery of grouper off the Little Cayman Island had an initial delay in recovery by approximately 5 years. The population initially declined before steadily increasing over time which could have been a result of other factors including problems with adult recruitment back to the FSAs due to changing ocean conditions, i.e. not enough young are able to return to the fishery. Nassau grouper on another Island in the Cayman Island Chain, Cayman Brac, were seen to have an increase in population but more data over a longer period of time is needed before this can be said with higher certainty. These findings indicate persistent protections put into place in the Cayman Islands over the past 15 years that have resulted in recovery of the Nassau grouper population.
Future outlook of Protection and Regulation of Fisheries
Waterhouse et al. (2020) show promising evidence of the efficacy of fisheries protection put into place by the Cayman Islands to protect Nassau Grouper. This study highlights the need for long-term protection efforts for recovery of endangered and overfished populations. With newer technologies, monitoring efforts will likely become easier and allow for better assessment of what works or doesn't work for global marine fisheries protections. For now, the story of the Cayman Island's Nassau Grouper recovery efforts leaves us hopeful.

I'm a PhD student in the Rynearson Lab at the University of Rhode Island (URI) Graduate School of Oceanography (GSO). My research interests are focused on human impacts on the oceanic ecosystem, particularly effects on the primary producers (phytoplankton) at the base of the food web. Currently, I work with cultures from regions of the ocean that are nutrient limited and will conduct experiments to investigate how these phytoplankton survive.