Ninety-five percent of the ocean is unexplored.
Video: A bizarre looking colonial animal, a siphonophore!  What lives in the deep sea that we haven't discovered yet?  Let's explore!
How do we know more about the surface of the moon and Mars than the deep reaches of our own planet? One reason is the ocean itself. Our technological tools such as radio waves have a hard time getting through salty water to "see" the watery depths. To wit, while the ocean floor has been mapped, existing maps only register features such as underwater mountains or canyons that are around 5km (3 miles) or larger. That is about one third the length of Washington, D.C.—there are a lot of missing details! The good news is, there are ships equipped to explore areas of the ocean that have never been seen before by the human eye. Best of all, you can explore and make discoveries alongside scientists in real time. How? Telepresence! While telepresence is not quite as impressive as teleportation, it's the next best thing that actually exists. Telepresence is a ship's ability to send data and video footage collected by underwater robots (or ROVs: Remotely Operated Vehicles) via satellite back to "mission control"—in this case, the Inner Space Center at the University of Rhode Island. From there, it can be streamed to computers, tablets and smart phones worldwide, like an unedited and uncut reality show. If you've ever wanted to plunge into a submarine and explore the secrets of the ocean depths, this year (and beyond) you join the following expeditions:
Join the E/V Nautilus in the Eastern Pacific!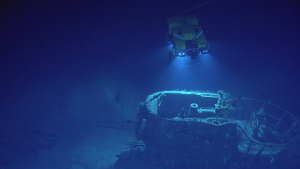 Who: Operated by the Ocean Exploration Trust. The Ocean Exploration Trust is a non-profit organization headed by Dr. Bob Ballard—the person best known for finding the final resting place of the Titanic and he was part of the team that discovered that life can exist without sun. Fellow oceanbites author, Ashley Marranzino and myself will be heading out to sea with the team this season! Ashley has written about her experience here.
What: This is the Exploration Vessel Nautilus' third year exploring in the Eastern Pacific Ocean. This season runs from May – November from British Columbia, Canada to Baja California, Mexico and focuses on coastal marine protected areas.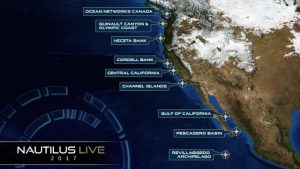 Where: Starting Aug 17, this leg of the expedition will take place in Olympic Coast National Marine Sanctuary, a marine protected area off the coast of Washington State. It will then make its way south to Mexico.
Why: To get an idea of the life that lives within the sanctuary, specifically in underwater canyons, to dive the USS Bugara (a sunken World War II submarine) and to learn more about the effects of ocean acidification. Ocean acidification is the change in ocean chemistry when carbon dioxide—emitted when we burn fossil fuels—is absorbed by the ocean and reacts with the seawater. This change decreases the amount of calcium carbonate building blocks that some ocean organisms need to build their shells. Collecting information will help manage these areas for future generations.
Join NOAA's Okeanos Explorer in the Central & Western Pacific!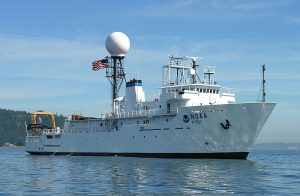 Who: Operated by the National Oceanic and Atmospheric Administration (NOAA).
What: More Pacific Ocean love follows as the Okeanos Explorer conducts the third year of its effort to explore deep sea habitats within marine protected areas.
Where: This leg of the expedition will focus on mapping the deep waters around Hawaii.
Why: Building more detailed maps is critical in order to reveal areas of interest that can be revisited by ROVs in the future. It takes a lot of time, money and people to conduct deep sea exploration, so detailed maps help focus resources on areas that matter more.
When: Mapping will occur between Aug 8-31, but ROV dives and telepresence will begin Sept 6.
And More!
Another upcoming expedition is the Southeast Deep Coral Initiative. This expedition will not have telepresence, but you can follow along via website! From August 12-31, NOAA's Ship, the Nancy Foster will be mapping, exploring and sampling deep sea coral and sponge habits off the Southeast United States. The end game is to use the data generated for current and future management.
An ongoing expedition although not deep sea related, is Canada C3. In celebration of Canada's 150th anniversary of Confederation, the Polar Prince ship is currently undertaking a 150-day expedition to visit all three of Canada's coastlines. The goal is to connect with coastal communities to share stories and discuss diversity and inclusion, reconciliation, youth engagement and the environment. The ship is currently in the Canadian Arctic. You can follow along via Live Feed & Podcast!

I'm a past oceanbites writer, occasional editor and guest poster.  I graduated with a Masters of Coastal & Marine Management from the University of Akureyri in Iceland, and am currently working in marine conservation.  In particular, I'm supporting an Indigenous-led initiative to safeguard the largest inland sea in the world (Hudson Bay & James Bay, Canada). I love weird ocean critters and *sigh…I really do enjoy long walks on the beach.