Each summer, the University of Rhode Island Graduate School of Oceanography (GSO) hosts undergraduate students from all over the country to participate in oceanographic research. These Summer Undergraduate Research Fellows (SURFOs) have not only been working with GSO scientists, but they also have spent part of their time learning how to communicate this science to the public. Read on to find out what they have been up to, and why everyone should be as excited as they are about their work.
My name is Jacob Champlin. I am an uprising Senior at Roger Williams University in Bristol, Rhode Island. I am majoring in Mechanical Engineering and minoring in Mathematics. During this summer I had the opportunity to participate in the SURFO Program and work under the Roman Lab at the Rhode Island Graduate School of Oceanography. My research focused on the development of an autonomous winch used as a tool for creating an autonomous measurement system for algal bloom research. Not only did I gain a large amount of experience in engineering design during this fellowship I had also learned how interesting Ocean Engineering is as a field. In the future, I plan to further my education in Ocean Engineering and continue designing in this growing discipline.
_________________________________
How safe are the ponds and lakes that are near your neighborhood? Since the establishment of the Environmental Protection Agency (EPA) in 1970 water quality assurance has been improving and developing new scientific fields in environmental science. Whether the health of the ecosystem is on the line, our drinking water quality, or recreational activities such as swimming and kayaking could be a risk, the safety of a pond or lake's water quality is extremely important. Some dangerous events that endanger water quality are algal blooms, which occur when there is a large amount of algae grown over a lake or pond over a short period of time. Algal blooms can kill the local wildlife by lowering the concentration of dissolved oxygen in the water and also be toxic to humans who swim or consume such water. While we could just look at the water in our local ponds and lakes and decide for ourselves if the water is safe, a more scientific option is to test the safety of the water with digital sensors!
As of today, government agencies such as the EPA as well as state-run agencies such as the Rhode Island Department of Environmental Management (RIDEM) use data from scientists and resource managers that manually test ponds and lakes with digital sensors.  The agencies then use this data to decide on regulations and policies for those lakes and ponds. However, in the age of robotics and automation, we can improve this process by creating sensors that can automatically test the water at different points of interest. Automation allows for more data collection over a larger area in a shorter period of time, which gives researchers more accurate information that can be used to warn the general public and allows government agencies to set better regulations.
For my project this summer, I am creating a winch at the Rhode Island Graduate School of Oceanography (GSO) that can automatically raise and lower a sensor to take these important water measurements in nearby freshwater and coastal ecosystems. The winch will be placed on top of an automated kayak that will use GPS to automatically move to different points.  The sensor that we plan to use transmits its data through a wire, so we decided to use the same wire to lift and lower down into lakes and ponds.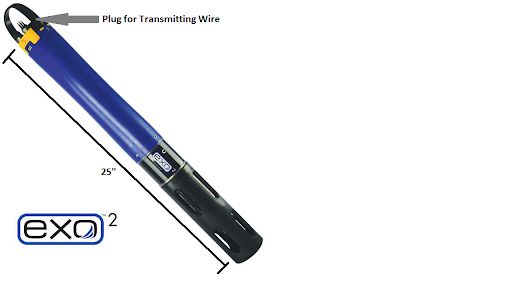 Unlike other winches, this winch needs to be capable of carefully raising and lowering a sensor without damaging the cable to which it's attached. Besides this challenge, the winch also needs to be automatically controlled using a computer. Unfortunately, there are no winches that we can just buy that can do this, so we have to make one ourselves.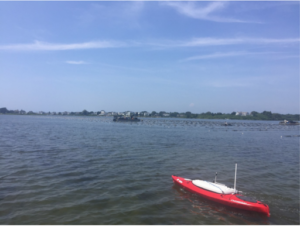 In the design, the automated winch is:
Resistance from rusting, as the winch will be close to the water and needs to stay resistant from any potential water corrosion. 

Strong and durable since the sensor that it is lifting is large and heavy. 

Easy to conduct maintenance on. The winch is placed close to water, and so if any repairs need to be made, the winch is easily accessible.
In order to create the winch, sketches and measurements are made on the automated kayak and sonde using a tape measure and a caliper. Then, sketches are then made on a computer using a Computer-Aided Design (CAD) software called SolidWorks. This is how most custom-designed parts are made and allow for detailed design work that can then be sent to a 3D printer or a laser cutter for manufacturing. A 3D printer will print all the main plastic parts, and a laser cutter will cut thin sheets of aluminum or acrylic to create the large side plates that hold the winch together, and the larger winch drum that will house all the transmitting wire together.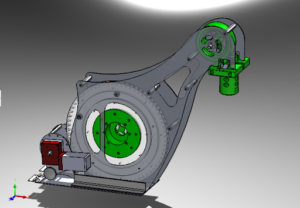 With the winch soon to be constructed in the fall of 2021, this winch-kayak system will be fully automated and allow for much greater risk analysis on algal blooms. While the main purpose of the winch is for detecting algal bloom triggers, this automated winch is versatile enough to be used for many other applications in lakes or ponds such as identification of pollutants and stratification. Automated winches are tools for creativity and scientific research, and with future autonomous inventions to be on their way in the upcoming decades more tools like the autonomous winch will be created to further advance environmental research and environmental justice.

I recently graduated with a degree in Environmental Earth Science and Sustainability from Miami University of Ohio, and I recently started my MSc at the University of Victoria. While my undergraduate research focused on biogeochemical cycles in lakes and streams, I am excited to pursue my MSc in the El-Sabaawi Lab and explore how urbanization might impact fisheries. In my free time, I love to travel to somewhere off the beaten path, read fantasy novels, try new recipes, and plan my next trip to the ocean.