Citation: Flikkema, M., Waals, O., 2019. Space@Sea the Floating Solution. Front. Mar. Sci. 6, 553, doi.org/10.3389/fmars.2019.00553
An Overview:
Can you imagine what life on a floating island might look like? A recent study describes this concept as part of the Horizon 2020 project, Space@Sea. If successful, this project will develop affordable and flexible floating islands. As sea level rises and the global population increases, we may eventually need to explore other options such as expanding to offshore infrastructure instead of building up. In the future, there will be even more papers coming from the Space@Sea project to increase our knowledge about the details involved with expanding offshore infrastructure.
A little bit of background: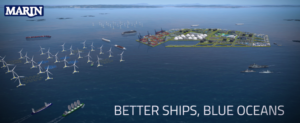 Most of the world's population lives in coastal areas. In the near future, the ocean will reclaim many parts of the existing land space as sea level rises. With this ever-impending reality, there is increasing interest in examining the potential of ocean space for increased renewable energy options and a place for offshore workers to live. Offshore activities are growing rapidly from traditional oil and gas applications to other avenues such as renewable energy or aquaculture. Offshore activities are mostly done on a working platform. However, there are other options out there such as floating islands where multiple activities are combined. These solutions don't exist yet, but could soon be a part of tackling  one tough problem.
The concept of floating islands is not new. The Horizon 2020 MUSES project considered the multi-use of ocean space where various activities could be done in the same area. In the summer of 2017, MARIN, a Netherlands based organization, developed a modular floating island concept with triangular pieces. Triangular floaters allow for flexibility in multiple directions. This design allows the island to drape over the ocean like a carpet and stay relatively calm during crazy ocean storms.
How best to create floating islands?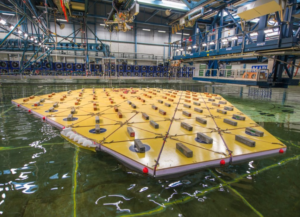 The modularity, or  the ability for parts to be separated from one another, is the key element of the Space@Sea concept. The floating pieces are also built in ratio to each other, so that the larger pieces are double the dimensions of the smaller ones. Space@Sea will focus on four types of applications throughout the course of the project: 1) Energyhub@Sea will investigate generating renewable energy from the motions between the floaters, as well as providing space for servicing renewable energy platforms offshore; 2) Living@Sea will start as housing for offshore workers, but eventually expand into housing for the workers' families and larger buildings on the islands; 3) Farming@Sea will involve more aquaculture further offshore to ensure that the islands can be self-sustaining; 4) Transport-Logistics@Sea will enable ports to expand further offshore to have more space. All of these applications will be evaluated during the demonstration, which will happen under controlled real life environmental conditions accounting for the effects of wind, waves and currents.
Some expected impacts:
The main result of this current study is the demonstration and evaluation of the modular floating island concept. During the demonstration, the floating islands will be tested during normal ocean conditions and extreme weather conditions to test their durability. If the project is successful, the researchers encourage discussing the  guidelines and regulations that will need to accompany the increased activities at sea. It is likely that the Space@Sea results will have a positive impact on maritime and offshore activities through an increased economic viability of multi-use offshore activities on these modular floating islands. The concept of modularity is key for reducing the costs of floating islands.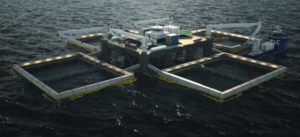 Further developments in Space@Sea will study the idea of shared mooring for the entire floating island and not each individual piece. In addition, modular islands can be enlarged with new floaters, or pieces, as the need arises.
The future of floating islands:  
Space@Sea, the three-year Horizon 2020 funded research project, is well underway. Many partners are working together to develop a standardized modular floating island to provide deck space at sea. The authors discuss how eventually, regulatory bodies such as the International Maritime Organization will need to look into how best to incorporate regulations for floating islands. Do you think it is realistic to be developing the idea of floating islands for our future?
I love writing of all kinds. As a PhD student at the Graduate School of Oceanography (URI), I use using genetic techniques to study phytoplankton diversity. I am interested in understanding how environmental stressors associated with climate change affect phytoplankton community dynamics and thus, overall ecosystem function. Prior to graduate school, I spent two years as a plankton analyst in the Marine Invasions Lab at the Smithsonian Environmental Research Center (SERC) studying phytoplankton in ballast water of cargo ships and gaining experience with phytoplankton taxonomy and culturing techniques. In my free time I enjoy making my own pottery and hiking in the White Mountains (NH).