This post is part of a semester-long collaboration with Dr. Michèle LaVigne, a professor at Bowdoin College, who partnered with oceanbites authors to incorporate science communication into her Oceanography classes. This is a guest post co-authored by two of her Oceanography students, Lucie Nolden and Rose Saga.
Journal Sources:
Cardil, A., Rodrigues, M., Ramirez, J., de-Miguel, S., Silva, C.A., Mariani, M., and Ascoli, D., 2021, Coupled effects of climate teleconnections on drought, Santa Ana winds and wildfires in southern California: Science of The Total Environment, v. 765, p. 142788, doi:10.1016/j.scitotenv.2020.142788.
Meo, S.A., Abukhalaf, A.A., Alomar, A.A., Alessa, O.M., Sami, W., and Klonoff, D.C., 2021, Effect of environmental pollutants PM-2.5, carbon monoxide, and ozone on the incidence and mortality of SARS-COV-2 infection in ten wildfire affected counties in California: Science of The Total Environment, v. 757, p. 143948, doi:10.1016/j.scitotenv.2020.143948.
The Covid-19 pandemic has been devastating for the entire world, but Southern California was battling a second series of deadly catastrophes this past year. In 2020, Southern California saw one of its deadliest fire seasons, exacerbated by the coinciding Covid-19 pandemic. A recent study found that the air pollutants released by this year's fires have caused both Covid-19 cases and mortality rates to skyrocket in affected counties. But why were wildfires so bad this year? The answer may have something to do with El Niño. Or rather, with El Niño's formidable elder sibling, La Niña.
The dance of El Niño and La Niña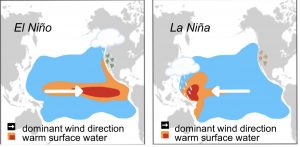 Every 5 to 7 years, a dance between water and winds begins in the theater of the Pacific Ocean. The first act of this two-part dance is called "El Niño." A freak wind starts to blow from the western margin of the Pacific Ocean, pushing waters towards the Americas' west coast. The water piles up into a warm pool, launching the start of a rainy spell. In southern California, an El Niño event means more precipitation and a successful year for vegetation – grass and shrubs flourish under these wet conditions.
In the second act, the arrangement sways to the other extreme: colder waters creep into the mix, disrupting the warm pool that El Niño built up near the west coast. The ocean drags the warm pool away from America's west coast, pulling it all the way to the other side of the Pacific Ocean. It is this La Niña phase that spells a fiery calamity for southern California.
Why does Southern California burn?
La Niña brings drought to the western coast of the United States, drying out the vegetation that accumulated in the preceding El Niño season. Dry air and scorching temperatures pull moisture out of California's grasses and plants, transforming vegetation into a stockpile of fuel that can ignite with just a tiny spark. When the powerful Santa Ana winds join the mix, the fire can be blown across miles of chaparral (the shrub-dominated ecosystem adapted to southern California's dry summers).
Climate change is making droughts more frequent and severe, causing the fuel stockpile to be perfectly primed for the next blaze. And temperature, precipitation, and resulting droughts are all influenced by links in global climate systems, including the El Niño and La Niña cycles.
A team of scientists led by Dr. Cardil research how climate influenced the severity of southern California wildfires. Dr. Cardil and his team analyzed wildfire records in the sixty-five years between 1953-2018 and evaluated wildfire magnitude (determined by how far-reaching each event was) against climate conditions. The researchers revealed that severe droughts correspond to La Niña phases and that far-reaching wildfires correspond to period of high drought and strong Santa Ana winds.
Twin Disasters
2020 was, as you may have guessed, a La Niña year, and California faced a wildfire season worse than any in its recorded history. Wildfires threatened properties and public health as flames burned and smoke polluted the air. But 2020 had another, more insidious health crisis brewing at the same time: the Covid-19 pandemic.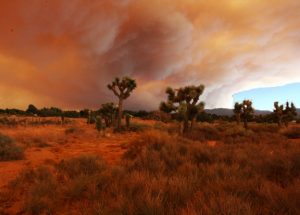 A new paper published by Sultan Ayoub Meo and his colleagues at King Saud University in Saudi Arabia found a link between these two disasters: wildfires create a dangerous mix of air pollutants including carbon dioxide, carbon monoxide, ozone, and tiny particles called particulate matter, all of which threaten respiratory health, especially of vulnerable populations like older adults and individuals with respiratory and cardiovascular diseases.
Covid-19, as the researchers noted, also puts these groups at particular risk. Because the pollutants released by wildfires can impair immunity and damage lungs, wildfires may make the disease even deadlier.
Meo and his team investigated the relationships between wildfire occurrences and Covid-19 cases and deaths in California, and discovered that when pollution spiked after a blaze, Covid-19 cases and deaths also went up. Before his study, researchers weren't sure whether there was a connection between particulate matter pollution and Covid-19 mortality, but Meo argues that the clear correlation between wildfire pollution and Covid-19 mortality is evidence that particulate matter, like that in wildfire smoke, can make lungs more susceptible to infection and even serve as vehicles for viruses like Covid-19.
Our Future
Because of climate change, the El Niño/La Niña cycles have become unpredictable while recent years have shown that rainy spells are wetter and the dry spells are drier. Californians will have to grapple with the cost of wildfires in the coming years, and the rest of us will have to contemplate our hand in shaping the trajectory of Earth's climate.
For now, our best bet to save lives is to continue following CDC guidance to prevent the spread of Covid-19, including getting vaccinated, wearing masks, and practicing social distancing. You can also follow these tips to reduce the risk of accidentally starting a wildfire. Being mindful about setting up campfires, proper disposal of cigarettes and used matches, and firework safety are key.
In the long term, a meaningful answer to this year's deadly California wildfires will require action on a larger scale. It has never been more clear that nationwide climate policy must tackle global warming by drastically cutting carbon emissions and decreasing our reliance on fossil fuels in an equitable and just way by 2030. California must prevent the spread of its fires through creative and traditional fire management strategies, such as the methods of prescribed fires that have been used by Native people in the region for thousands of years to maintain forest health. Hope appears on the horizon as the United States re-enters the Paris agreement and put forth a climate action plan to reduce our greenhouse gas emissions by 3,000 million tonnes by 2030 and to have net-zero emissions by 2050.
Additional References:
Helvarg, D., 2019, How will California prevent more mega-wildfire disasters?: http://www.nationalgeographic.com/science/article/how-will-california-prevent-more-mega-wildfire-disasters.
Liberto, T.D., 2020, La Niña update: walking in a La Niña winter wonderland, NOAA Climate.gov, https://www.climate.gov/news-features/blogs/enso/december-2020-la-ni%C3%B1a-update-walking-la-ni%C3%B1a-winter-wonderland.
Pereira, M.G., Parente, J., Amraoui, M., Oliveira, A., and Fernandes, P.M., 2020, 3 – The role of weather and climate conditions on extreme wildfires, in Tedim, F., Leone, V., and McGee, T.K. eds., Extreme Wildfire Events and Disasters, Elsevier, p. 55–72, doi:

I received my Master's degree from the University of Rhode Island where I studied the sensory biology of deep-sea fishes. I am fascinated by the amazing animals living in our oceans and love exploring their habitats in any way I can, whether it is by SCUBA diving in coral reefs or using a Remotely Operated Vehicle to see the deepest parts of our oceans.