This post is part of a semester-long collaboration with Dr. Michèle LaVigne, a professor at Bowdoin College, who partnered with oceanbites authors to incorporate science communication into her Oceanography classes. This is a guest post co-authored by two of her Oceanography students, Jean Clemente and Holden Turner.
Journal Sources:
Gudka, M., Obura, D., Mbugua, J., Ahamada, S., Kloiber, U., & Holter, T. (2020). Participatory reporting of the 2016 bleaching event in the Western Indian Ocean. Coral Reefs, 39(1), 1–11. https://doi.org/10.1007/s00338-019-01851-3
Voorberg W. & Van der Veer R. (2020). Co-management as a successful strategy for marine conservation. JMSE. 8(7), 491. https://10.3390/jmse8070491
Temperature increase spells trouble for coral
Scientists predicted that 2016 was going to be a bad year for coral. That spring, climate change and an El Niño-driven temperature swing brought unusually warm ocean currents to the western Indian Ocean, setting off alarm bells in communities up and down the coast of East Africa. These trends spurred people like Ulli Kloiber to action. Kloiber, conservation manager at Tanzania's Chumbe Island Coral Park, teamed up with other researchers and coral enthusiasts to organize a massive citizen science project around these reefs. Their research relied on coastal communities to help document the 2016 coral bleaching event across an enormous ocean area.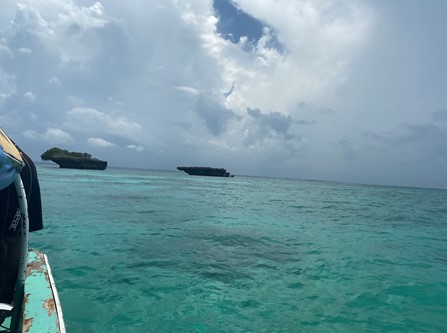 Coral bleaching is an existential threat to reefs and the people who depend on them. Coral reef structures are made of thousands of small animals – coral polyps – and their food-producing algae symbionts. In extremely warm waters, the algae get stressed, can't provide food for the coral host, and are kicked out into the sea. When this happens consistently, the corals lose their colorful roommates permanently and become white, or "bleached". Eventually, the weakened corals will die. Marine fisheries that depend on them suffer with the loss of reefs, which provide much habitat and food above the surface, too — island and coastal communities have maintained strong cultural and economic ties to reefs and marine diversity despite the economic decline of fisheries worldwide. Scientists tend to advocate for protected areas to prevent the destruction of these reefs. Such projects, however, often exclude and conflict with locals like fishermen and seaweed harvesters who work with, understand, and depend on these ecosystems firsthand. 
Citizen Science as a Solution
Through citizen science, people like Ulli Kloiber are creating innovative ways to monitor these changes together with the local communities they threaten. Today, an emerging network of organizations across the western Indian Ocean is trying to bridge the gap between local knowledge and formal scientific traditions. This network includes CORDIO (Coastal Oceans Research and Development Indian Ocean, a research organization based in Kenya) and Kloiber's team at Chumbe Island Coral Park.
Chumbe Island and CORDIO led the charge to document the 2016 bleaching event. Over 80 participants from 55 organizations observed coral bleaching during the warm season across the western Indian Ocean. Participants could even see the data plotted in real-time as more than 700 reports came in through an online form. Data from South Africa to Seychelles showed that some sites were far more resistant to bleaching than others. The team speculates that differences in ocean currents and coral species might make some reefs hardier than others, though the survey also opens many questions for future researchers. Fortunately, their data sets are public and can be accessed through an online dashboard for anyone to use. As Indian Ocean reefs recover today, those observations continue to allow Kloiber and others to compare and predict the futures of coral communities. 
These types of studies highlight the importance of local communities in monitoring and mitigating the effects of climate change. Though data from citizen science projects are harder to standardize than data from traditional scientific monitoring, Kloiber's team shows that citizen science methods can have a great impact in regions that have historically been under-studied. Areas like coastal East Africa benefit from the increase in amount, scope, and quality of research that citizen science projects offer, but a recent study by social scientist William Voorberg shows that research-driven projects are only one example of how coastal communities can contribute to managing our oceans.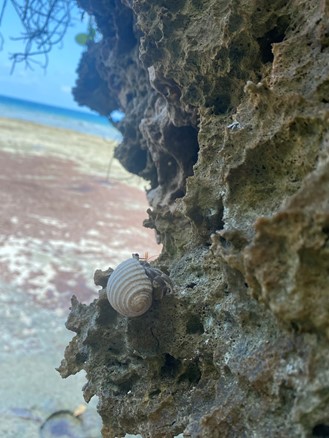 Voorberg and colleagues used data from massive citizen science projects like Kloiber's to see whether local involvement in marine protected areas (MPAs) is actually helping ocean ecosystems. Not all governments and organizations are working together with coastal communities to manage MPAs, even though the people who live near these areas tend to be more informed of appropriate practices to protect them. When the government and local stakeholders share management power, are MPAs actually better protected?
MPAs in Collaboration with Locals and Goverment
To answer this, Voorberg's team examined coral and fish data from the citizen science database ReefCheck. They explored how coral bleaching and large fish populations changed in MPAs that were managed by the government alone, co-managed with locals, or co-managed with locals under a broader government plan. In the grand game of climate chess, they found that co-management alone was a poor move – bleaching rates and fish counts hardly improved, only delaying the endgame. However, they found that MPAs can show up to 86% fewer bleached coral colonies and up to 12 times more fish when co-managed by government and locals under a formal plan.
Voorberg's results suggest government conservation strategies that openly accept the role of local communities lead to better protected MPAs. Along with Kloiber's study, these papers show why it's important for scientists to step out of the confines of academia. Researchers have access to more data, and stakeholders in citizen science projects can work directly with reefs to preserve fisheries, economies, and marine life. Though Kloiber's data show that Indian Ocean reefs have mostly withstood the 2016 event, similar bleaching events will only continue and worsen with climate change. As such, future citizen science is critical: it is a testament to the power of shared knowledge, a collaboration that offers impacted communities a check against climate change.

I'm a PhD student in the Rynearson Lab at the University of Rhode Island (URI) Graduate School of Oceanography (GSO). My research interests are focused on human impacts on the oceanic ecosystem, particularly effects on the primary producers (phytoplankton) at the base of the food web. Currently, I work with cultures from regions of the ocean that are nutrient limited and will conduct experiments to investigate how these phytoplankton survive.